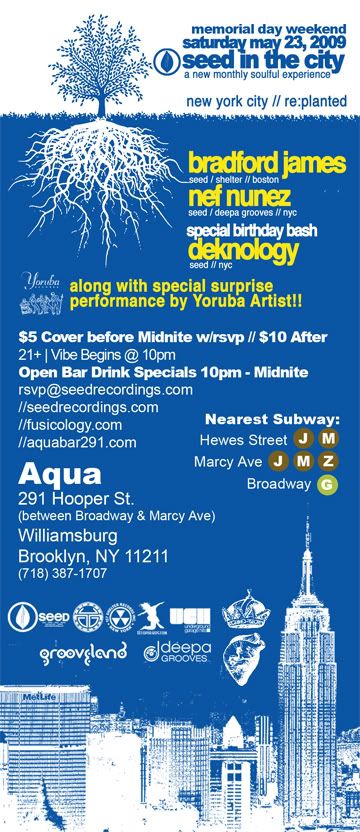 If you love soulful house and people who can dance even in the tightest space without knocking you over, then check out this party that my good friend Bradford James is throwing this weekend.
Saturday May 23, 2009 10:00 pm
A party that started in New York City in 2003 returns back to the BIG Apple... well Williamsburg, Brooklyn to be exact...
We are excited to re:plant
Seed In The City
with resident Dj's;
Deknology (Seed) NYC
Bradford James (Seed / Shelter Records / Utopia) Boston
Nef Nunez (Seed / Deepa Grooves) NYC
10pm till 4am
$5 Before Midnite or w/RSVP before Saturday
$10 After
21+ / Positive Vibes
Open Bar 10pm - 12am
rsvp@seedrecordings.com
**** SPECIAL NOTE!!****
If you rsvp before Saturday we will honor the $5 cover charge ALL NIGHT LONG!!! otherwise its $10... btw did we mention theres OPEN BAR DRINK SPECIALS TILL MIDNTE!!!
Thats what we are talkin about! Dope Venue, Dope Vibes, Dancing, Drinking & Socializing!! Please take advantage of this!!!