J*DAVEY AKA JACK
DAVEY!!!!!!!!
------------------------------------------------------------------------------------------------------------------
This woman obviously needs no introduction. If you haven't heard of her, you must have been sleeping either in a gutter or under a rock for the last 2 years! Reppin' the west coast,
Jack
has been licking our ears with her west coast swagger, sexy voice and in your face style. Teamed up with
Brook D'leau
aka
iLLaV8r
, KILLING the beats, this duo has been leading the scene and making
J*Davey
into one of the most wanted acts around.
From JACK:
WHAT DO YOU DO? i sing . i write . i emcee . i dj . i dress . i rest .
WHERE DO YOU CALL HOME? wherever i put my suitcase .
TRUE BEAUTY IS… self-defined .
BEATS… that brook d'leau make blow my mind .
TRUE SEXY IS… confidence & 5 inch heels .
MUSIC IS MY… life .
ART DOES NOT… cease to amaze me .
MY NIGHTS ARE… wild with indulgence .
THESE 3 TURN ME ON… hi heels , red lipstick , & dimly lit after-hour discos .
SELF-KNOWLEDGE … is never ending .
ENOUGH OF … ignorance , kitten heels , & jealousy .
MY CREATIVITY IS… limitless .
TRUE POWER IS… knowing how to use the power u possess .
LIFE CAN BE THE... gift & the curse , depending upon how full (of vodka) ur glass is at the moment .
TO LOVE IS TO… play the fool sometimes .
I'VE GOT FLOW BECAUSE…. i don't play by the rules .
CAN'T LEAVE HOME WITHOUT.... changing my outfit a few times .
WHAT ARE YOU WORKING ON .... finishing the J*DaVeY warner bros record , tracks for the Mona Visa , the Black Morris record , & a great night's sleep . . .
IN 2009, ILL BE... ur worst nightmare .
SHOUT OUTS TO.. all the boys i've loved before . . .
ANYTHING ELSE YOU WANT TO PLUG? ... J*DaVeY's double ep "the beauty in distortion / the land of the lost" is now available everywhere so please support ! stay tuned to my blog :
www. missjackdavey. com
check out :
www.myspace.com/jdavey





==============================================================

KISSEY ASPLUND!!!!!!!!!
-----------------------------------------------------------------------------------------------------------
-------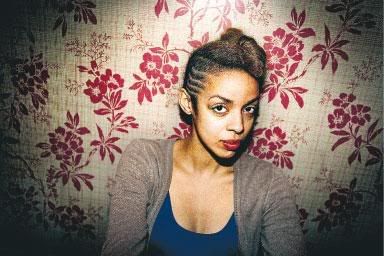 Kissey
fever has hit the U.S., and her name comes up more than the weather these days. Seriously. I actually got into
Kissey
years ago when the
boys
of the
Rhythm Lab
started giving her radio-play back in the day in Minneapolis on
The Current
. Recently spending some time in NY, she is on the want list of every producer and is making waves from Sweden to Brooklyn. She's droppin' a 12 inch this month, so DONT SLEEP!
From KISSEY:
WHAT DO YOU DO? vocalize/sing/scream /whisper/voice-play
WHERE DO YOU CALL HOME? 1 )Sweden 2) Funkadellicville
TRUE BEAUTY IS…is the smile that shows up on your face when you are playing
BEATS…I'm the biggest sucker for a great beat. I become extatic, excited, delerious, fanatic...everything of a amzing beat.
TRUE SEXY IS…calmnesss
MUSIC IS MY…drug. I tried stopping but I can't
ART DOES NOT…punch my button all the time, it has to be good! used to study art and have developed somestrange allergy against b-s art..a.aaaaaa
MY NIGHTS ARE…sometimes to long 6-7 am and sometimes very short 9pm
THESE 3 TURN ME ON…beats, coffee and orange juice
SELF-KNOWLEDGE …I'm acutally doing a "Oprah", well I didn't know till recently but I'm reading a lot of books about self-knowledge and being in the "now". So check on trying
to get a better self-knowledge :) hard though.
ENOUGH OF …TV programs with Nanny's!
MY CREATIVITY IS…monday morning sitting in my studio in my slacks, sun glazes through my window and my mic is heating up for a session. That's when the creativity starts.
TRUE POWER IS…keeping it real. No one can take the power of your realness.
LIFE CAN BE ...hard,hard,hard but fun,fun,fun
TO LOVE IS TO…live, breath and embrace
I'VE GOT FLOW BECAUSE….I have my Legoman
-necklace on me most of the time,
CAN'T LEAVE HOME WITHOUT....cellphone and iPod...and keys
WHAT ARE YOU WORKING ON FOR 09? Musicwise: I don't know yet, it's still at the stage of being developed, tons of collabs coming up that is for sure.
Elsewise: I'm working on launching a internet site for Funkadellicville so that should be very exciting :D
WHERE CAN WE FIND YOU?
www.myspace.com/kisseyasplund
somewhatstrangelife.blogspot.com
==============================================================

JIMI JAMES!!!!!!
------------------------------------------------------------------------------------------------------------------
Ok, so this beautiful lady is new to me, but has worked with some amazing people in music and I have NO idea why it took me so long to jump on board. I had the pleasure of meeting
Jimi James
@ The
PPP
listening party the other week and was completely drawn in by her soothing spirit and REAL personality. Not one of those fake the funk type chicks. Jimi brings it to you real... weather you want to hear it or not! Some big things are in the works for her, so be sure you check out her page and grab some of that music! It's bananas..
From JIMI:


WHAT DO YOU DO? I pray, hustle, multi-task, I move (travel), I strategize, network, communicate, I inspire, I help myself and others, and....I adore my family and friends.
WHERE DO YOU CALL HOME? Los Angeles. California is where I was born and raised. However, I have found home to be wherever I have felt honesty, comfort and love.
TRUE BEAUTY IS...Not forced.
BEATS...Can be studied, broken, chopped, recycled, copied, dropped, spun, hard, weak, sold, slung, bumped, rocked, ripped, stopped, and then given to JIMIJAMES..to put that stank on 'em.. (Was that too "deep"?, lol!)
TRUE SEXY IS...Runnin' out to the store real quick, hair lookin' 14kt crazy, a sweatsuit with no bra on (shhh..), feelin' all crusty and sweaty, ..only to be stopped and complimented by some fine cutie pie who says " You are beautiful"....Whoohooooooo! ..(Check please..)
MUSIC IS..."My thug, my cope, my drug, my dope...my feelin's run deep for you, I know"-JimiJames-
(Download THE JIMIJEEZEE MIXTAPE..)
ART DOES NOT...need to be defined, understood, validated or put in a box. It is multi-dimensional and complex even where there is simplicity.
MY NIGHTS ARE...sometimes never-ending..
THESE 3 TURN ME ON...
A man who is hairy! (beard, legs, eyebrows,...)
A man who can play the drums or keys....
A man who is good at math...
Can I keep going???.....there is so much more.
SELF KNOWLEDGE...is knowing God.
ENOUGH OF...the blatant lies and contradictory messages that are insulting to my people and our intellect. Enough of us actually FALLING for that BS! Come on people.
MY CREATIVITY IS...my tool which I use to stimulate good feelings and evoke your soul.
TRUE POWER...is the ability to have millions of people watching you and listening to you while you hold the mic......Say something. Do something will ya? You got it!
LIFE CAN BE...most challenging. Address those challenges for strength. Welcome those challenges as opportunities to grow. Try to be as positive as you can without losing your balance and aggression.
TO LOVE IS TO...sacrifice.
I'VE GOT FLOW BECAUSE...That's what i got!
CAN'T LEAVE HOME WITHOUT...Everything! (hint hint...packrat)...for real tho, my laptop.
WHAT ARE YOU WORKING ON FOR 09? I am working on getting my music distributed throughout the world with some great marketing behind my company JimiRah Entertainment. Looking forward to going overseas!
WHERE CAN WE FIND YOU?
www.myspace.com/rahrahgirl
www.myspace.com/grittipop
www.jimijamesmusic.com
CD available now on ITUNES and
CDBABY.COM
"Please continue to spread the word and support The Truth! ;)"
======================================================
*******FOR ALL PHOTO CREDITS, SEE ARTIST'S
MYSPACE
PAGE**********
Stay tuned for the next
HEY LADIES
!!
xo
Sarah White aka Artisticbling