Brooklyn based, Universally driven artist
KIVA
, is about to kill the stage this THURSDAY as he celebrates the anticipated release of DEGREES OF FREEDOM with an outstanding 9 piece band. I have personally had the joy of watching him grow this recent year and help to not only push but inspire other artists and musicians in the community with his talent and drive. I call him the "music man", because at one of his famous WAFFLETRONIX parties, or even just a sunday afternoon, he would keep me in awe as he floats from instrument to instrument leading jam sessions from afro-beat to hip-hop to his signature sound, Stuttastep.
Check out the interview below and also the info about the show. Dont miss this!!!
KIVA
Where do you currently call home?
Brooklyn, NYC
When did music take grab of you and at what moment did you realize it
was going to be a big part of your life?
Music grabbed me right from the beginning. My Father & uncles used to sit in our kitchen and jam on guitars, my mom told me by age 3 I would "sit in" pretending to play guitar along with them on my wooden building blocks!
Is your music for your heart, your soul, your fans or is it what you
do to make a living?
It's all of that. I play & write music everyday. It gives meaning to life.
What do you do to pay the bills?
I've been teaching music production at Dubspot, an amazing music production & dj school in Manhattan. Gigging & touring. Been doing some writing of music for t.v. & a new cartoon series. Also getting ready to drop my new LP "Degrees of Freedom" and looking to reach a lot of new minds with that & generate energy through that as well.

How was it been on tour with Willie Iz and Jneiro Jarel? Any
crazy stories?
Tour was amazing this summer. Was playing live guitar for Jneiro Jarel's "Shape of Broad Minds" project and a new project called "Willie Isz" which is a collabo between Jneiro and Khujo Goodie of Goodie Mob. We played in the line-up at some of Europe's biggest music festivals including Sonar, Hove, Roskilde, & Montreux Jazz. Headliners included Jay-Z, Radiohead, Massive Attack, Gnarls Barkley, & many more... it was incredible to be a part of that.
Crazy stories...let's see...when we were in Barcelona to play Sonar, Jneiro & I hit the beach...its europe, so ladies are topless, people kicking it on the beach. However, this couple about 15 feet from us started getting really affectionate...REALLY affectionate. The girl climbed on top of her boyfriend, pulled her bikini bottom to one side, put a towel over them, and started having sex right there on the beach with people all around. But the craziest part is as they were grinding it out, this bum walked over, tapped her on the shoulder, and asked them for spare change!

I know this question is impossible, but, What are your fav 3 tracks
currently in your rotation?
1. "Wanna Be Wit U" / Sarah White / Kiva remix...just finished mixing it 3 days ago & got it on repeat!
2. "Ride" Kiva feat. Mo'Betta & Rucyl...1st track on the new record...been starting my day with this one alot.
3. "Colour Me Funky" Parliament....this tune isn't even a well known P-funk tune, but its one of my favs I run on the ipod.
I know you put out vinyl in the past, do you think the future of vinyl
is dead --or will it come back?
I think wax will always have its place, but technology keeps moving on and I try to keep up with the times. Serato has been running tings with most of the djs I know for years, and it makes more sense financially for a small label owner like myself to do a push a new release with a run of cds and the rest though digital distribution. Record culture isn't going to die, but there are many other options now to get your music heard.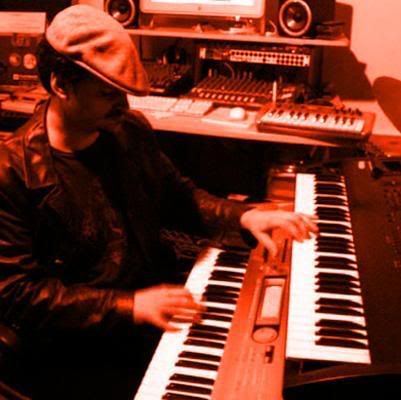 What projects are you proud of in 08 and what do you have in the works
for 09?
I am about to release my new album "Degrees of Freedom." Musically you will hear everything from stuttastep to psychedelic hip hop rock to straight jazz tunes...full spectrum selections of sound & emotion. There are many talented artists making guest vocal performances on the album including Onome, Sunru, Jneiro Jarel, Toli Nameless, and more.
In 2009, watch out for an EP I am creating with Oakland based vocalist Sunru, a King Tubbys 10" remix I did for King Tubby Dub Heritage Foundation records, and also a song I produced for Dub Poet Infinity, the resident voice at Francois K's Deep Space event, being released on th
e SF label Destroy All Concepts.
I co-produced a track for Dr. Israel's new album, and I also contributed guitar work to tracks by Jneiro Jarel & Khujo Goodie for the upcoming Willie Isz album, being released on Lex records in the UK.

Name 5 music-head's you want to work with by 2010:
Sunru
Daru Jones
Jah Dan
Bjork
Janelle Monae


This Thursday will be a big night for you! How are you feeling right now as the day approaches?
Feels amazing. The "Degrees of Freedom" album took me 2 years to create. There's a story behind every song. To see each song grow from the seed of an idea, to completion of the studio album, to now assembling a live band to perform these songs live is incredible.

We are all excited to see this 9 piece band, how did it come together and can you fill us in a little on who you have joining you?
No matter how much I love what can be accomplished in the studio, when you take it to the stage, there is no substitute for real musicians bringing that fire! I knew from the beginning I did not want to have a so-called record release event with me just running the CD and standing there drinking a Guinness pointing at the speaker going, (in geek voice:) "You hear that...that's ME!" No sir...we're coming correct - we're coming with a 10 piece band and a proper live show to blast the brooklyn massive!
I am blessed to have been able to assemble the crew of musicians I have working together for this record release event. Everyone is top-notch. Starting with the rhythm foundation: on drums, Daru (Slum Village/ Talib Kwali / Black Milk / Rusic Nusic) puerto-rican percussionist Sean Clements (Los Bomberos De
Brooklyn) and congero/multi-instrumentalist Rico Mendez (Rhythm Lab Radio / Sarah White). Low end duties are in the hands of bassist Elton Bradman (Shakti, Sparlha Swa, Suphala). On guitar,
Harvey Valdez (The Cool and The Deadly / Anistar) Horn section is comprised of Morgan Price (Zozo Afrobeat) and Rodney Siau (Zozo Afrobeat). On vocals, Nigerian songstress and spoken-word artist Onome lends her beautiful voice. Bay-area based vocal artist Sunru is travelling all the way from Oakland, California to rock with us. I will be playing keys for most of the show, but you will also catch me hitting things up on trumpet percussion, and electric guitar throughout the show. It's a big band and a BIG SOUND!

What's Stuttastep?
Stuttastep is the name I gave a certain style of music I create. It is soulful, futuristic dance music - alien soul music! It comes from influences of Afro-Cuban, Dub, Broken Beat, and Jazz music, but stuttastep has a different swing and vibe to it that sets it apart from other genres. Music nerds will appreciate it's different time signatures; dancers and listeners will appreciate how the stuttastep riddims make their necks snap!

What does this album signify for you and what do you want the listeners to "feel"
from it?
The album explores the many decisions we make on the road towards our own ultimate destiny.
Some of these choices are not easy to make and bittersweet, others are crystal clear and full of life's celebration.
But each decision leads one more step in the right direction.
Like the lyrics say, "Every movement made in life, measured increments of free...The world is yours and mine and we keep rising towards the highest degree..."
Each one of us is here for many reasons and it's up to us to figure out what those reasons are and live our truth.
My intention is that this album be a set of musical keys to assist those who hear it in the fulfillment of their own dreams...it's time to shine.

BAM "Sounds Like Brooklyn" 2009 Music Festival presents: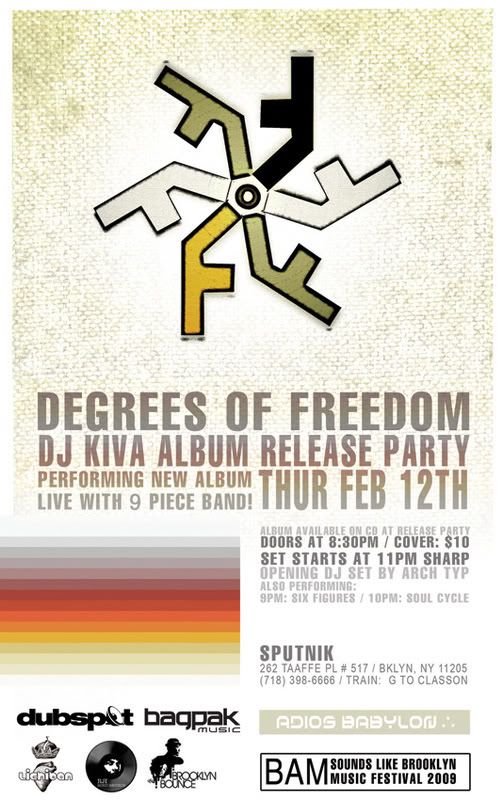 DEGREES OF FREEDOM
DJ KIVA ALBUM RELEASE PARTY
performing new album LIVE with 9 piece band!
featuring:
DJ Kiva / Keys & Live Electronics

Onome / Vocals

Sunru / Vocals

Daru Jones / Drums

Sean Clements / Percussion
Elton Bradman / Bass

Harvey Valdez / Electric Guitar

Morgan Price / Tenor Sax

Rodney Siau / Trumpet
Rico Mendez/Percussion


cover $10 / door at 8:30 /
Set starts at 11pm sharp
opening DJ set by Arch Typ
also performing:
9pm Six Figures / 10 pm Soul Cycle
Album available on CD at show.
Digital download available at iTunes, www.bagpak.net,
Dancetracks Digital, and other fine online music stores
http://www.adiosbabylon.com
http://www.myspace.com/adiosbabylon
DJ Kiva is an NYC based artist/dj/producer residing in
Brooklyn and founder of the recording studio and label
Adios Babylon.Crafting original sound from his studio, Kiva introduces the world to the sound of Stuttastep: A form of music derived from a formula of beyond broken beats, afro-cuban time signatures, dubwise production, heavyweight bass, and a cast of talented NYC vocalists and poets. His music combines the best of soulful live performances with futuristic electronic music production techniques. He has released numerous full length albums and remixed many soul, broken beat, reggae, and dance music artists.His productions have been released on such labels as Adios Babylon (USA), King Tubbys Heritage Dub Foundation (USA), Tommy Boy ( USA), Kindred Spirits (Netherlands), Goya Music (UK), Bagpak (USA), and Sunshine Enterprises (Austria). A veteran live musician, Kiva also tours internationally as live
guitarist for " Willie Isz " featuring Jneiro Jarel and Khujo Goodie of Goodie Mob and currently teaches electronic music product ion at Manhat tan based DJ & Music Production School Dubspot.
http://www.adiosbabylon.com
About DEGREES OF FREEDOM
DJ Kiva presents the new full length album, "Degrees of Freedom." His most creative and diverse work to date, it explores a full range of the human experience through cutting-edge music. From soothing soul ballads, ecstatic psychedelic hip-hop rock, bittersweet jazz numbers, to intergalactic excursions into his signature stuttastep style, the record shines with a full spectrum selection of sounds. Combining the best of soulful live performances with futuristic electronic music production, the record features a highly talented crew of guest performers including NY afrobeat empress Toli Nameless, Nigerian born vocalist/spoken word artist Onome, Oakland based hip-hop artist Sunru, Philly's Jneiro Jarel, and many other talented singers and musicians.