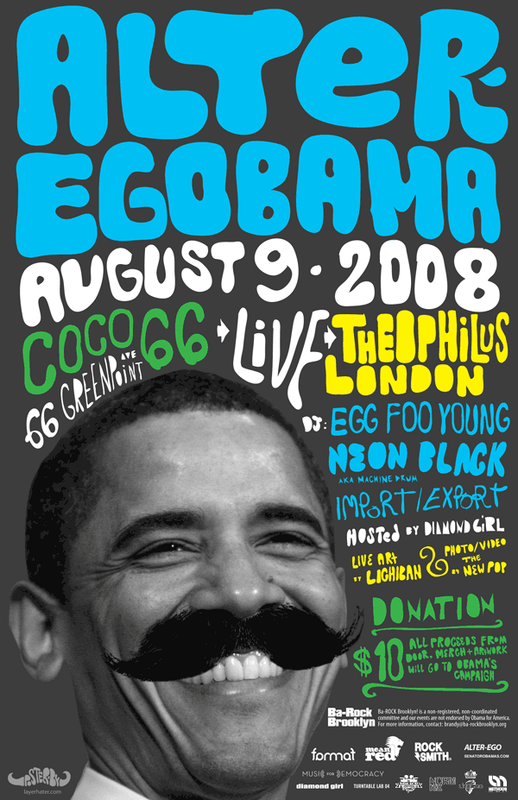 This Saturday, I'll be painting at two of the coolest events in Brooklyn. In the early afternoon, I'll be at Yume (925 Bergen st bw Franklin and Classon, buzz 406) during the hot block party, ROCK THE BLOCK. Then I'll head to Greenpoint later in the evening to participate in the dopest Obama fundraiser. My Obama portrait will be auctioned off and the proceeds will go toward the campaign!
////////////////////////////// ALTER-EGO PRESENT ///////////
///ALTER-EGOBAMA
Time for your Alter-Ego to shred til dawn at our Evil Twin Dance Party /// Obama Fundraiser /// Moustache Extravaganza. Because Alter-Egos Support Obama. And we all need BASS.
Date: August 9th
Place: CoCo66 66 Greenpoint Ave
Door Donation: $10 which will get you a free beer or liqueur...win win!
Djs:
IMPORT/EXPORT (ALTER-EGO)
NEON BLACK AKA MACHINEDRUM (NORMREX)
EGG FOO YOUNG (TURNTABLE LAB)
Live performance by:
THEOPHILUS LONDON & THE LOVERS (NORMREX)
Hosted by:
DIAMOND GIRL (ROCKSMITH)
Live art:
LICHIBAN (WRONG LIPS)
Video & photos by:
TREVZ & TEXAS (THE NEW POP)
Special thanks to:
FORMAT, MEANRED, MUSIC FOR DEMOCRACY, BA-ROCK BROOKLYN, SENATOROBAMAS, & METHODS NYC.
All proceeds from door, merch, & artwork will go directly to Obama's campaign.
My homies at ROCKSMITH Tokyo simply have some of the smartest and freshest tee designs out there. They came out with this super dope limited edition Ba-Rock Smith tee, which they will be selling at the event. This is the time to get yours since you will not see them in regular stores, not to mention that 100% of the sale profit goes toward the campaign.
//////////////////////////////////////////////////////// CONTINUING A LEGACY OF BASS
My friends Diamond Girl & Handshake have worked really hard to put the Obama event together. Big shout out to them, as well as to the ROCK THE BLOCK crew, Mike of Yume, Al of Minority Report and Ashley of Waxpoetics for getting me involved in these cool events..thank you!
ROCK THE BLOCK ~ Bringing Awareness To Brooklyn's Emerging Artist Renaissance
the Minority Report, Keistar Productions, Yume, Dope Swan, the Stylistics Agency , the Ahficionados , Not Just Vintage, & Frank White present the very best of upcoming talent for a One Day Art Convergence
ALL DAY EVENT 12pm-8p
Being held in 3 different locations:
1. Frank White- 936 Atlantic Ave
2. Yume - 925 Bergen St
3. Not Just Vintage - 1256 Bedford Ave
Rock the Block schedule
@YUME
Live Painting - Lexi Bella, Lichiban, Rizz22, Pesu, Brian & Concep
@ Frank White
12:00 the M Report
12:30 live performance by Fresh Daily
12:50 Blackcocaine (Deffrei)
1:20-30 live performance by Theophilus London
1:50 DJ Melo-X
2:20-2:30 live performance by Jesse Boykins III
2:50 DJ Miss Behavior
3:20-3:30 live performance by Print w/ Good Day Good Night
3:50 DJ Soul
4:20-4:30 live performance by Ray 6
4:50 DJ Goldfinger
5:20-5:30 live performance by Vice Lounge
5:50 DJ Spinna
6:20-6:30 live performance by Honey Larochelle
7:20 DJ Scratch