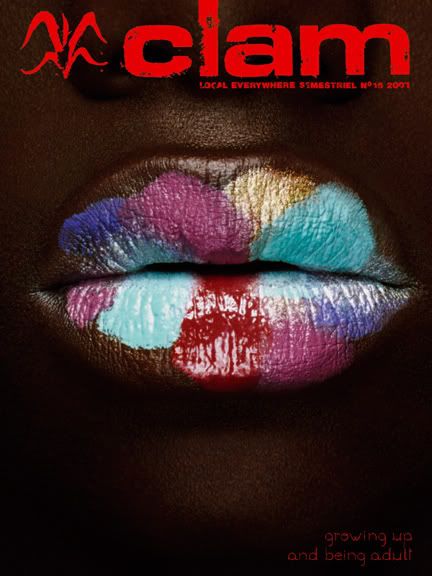 as you might expect,
WRONGLIPS
love lips of all kinds...lips come in different shapes and sizes. they are our soft, sensual, protruding, luscious, alluring, asymmetrical, kissable, lickable, desired erogenous organ. we breath, communicate, kiss, and feed ourselves through them. for us ladies, they are also the gates of life and of pleasure.
GOT WRONGLIPS?
is dedicated to finding some of the sexiest representations of these lovely body parts.
Our first pick

:

the cover of CLAM Magazine Issue #16.
CLAM
is one of my all-time favorite international fashion, art & culture magazines. I was lucky enough to get a full page feature in this issue focused on the theme of "growing up and being an adult." CLAM is published in Paris, but it has offices in New York City and in Japan. now it's possible to order it online through their
myspace page
. New Yorkers can get it at
Universal News
on 1588 Broadway St
.
What you can expect is some of the most beautiful art fashion photography with models who will take your breath away (something about them is just different...they seem real.. fragile, soulful, mysterious, complex in ways a lot of supermodels can't approach), an amazing array of creative people (visual artists, designers, poets, musicians, dancers, etc) from places that usually don't get this kind of exposure (like Africa, East Asia, Latin America and Central Europe), and classy issues that break away from the conceptual and aesthetic cliches of a lot of similar magazines.