JUNE 15: Mike Schreiber's "LUCKY SHOTS @ Harriett's Alter Ego
Mike Schreiber
needs no introduction. The New York-based photographer shares his "lucky shots" at Brooklyn's
Harriet's Alter Ego
from June 15 to July 10th, 2008. The collage of Mike's brilliant work ranging from some outstanding celebrity shots of Mos Def, Talib Kweli, Common, MIA, Biz Markie, John Legend, among others, to intimate portraits of street life in Jamaica or at a capuera center in Brazil. I love the way Mike's photos juxtapose the grittiness of the street, crumbling and layered with history, with a very intense and warm human presence. Definitely recommend it. Go Mike!
If you missed the show opening, you can catch the closing party on July 13th at Harriet's featuring the lovely Carla Duren's live performance .Give him some love at his
myspace page,
Painting at the DEJAVU event at Libation (173 Ludlow St.) was a ton of fun. The DJs, Peter Rosenberg & Ralf McDaniels of HOT97 spinning 80s and 90s hip-hop classics, had the whole place on fire. Nothing like the combo of people's hi energy, dope beats and painting in a dark room...it is a very different experience from the solitary all-nighter sessions when one is sitting in front of the canvas for 6 hours straight (dope beats are a must nonetheless) connecting only in spirit with all the nightbirds who are staying up all night to create something.
Shout out to fellow painters, Riz22, Lexy Bella & Pesu..was a hot night. Big shout out goes out to Yaz and Voodoo Ray who put me down for the event and featured me on the
Old Soulz blog
!! [Yaz is Japanese, hence the understandable typo in my name:]
w/ Riz22...young talent to watch out for! My piece is first of a series of kat people I've been visualizing...stay tuned for more.
JUNE 20, Another Great Day in Brooklyn @ Powerhouse Arena
the second photo shoot with Jamel Shabazz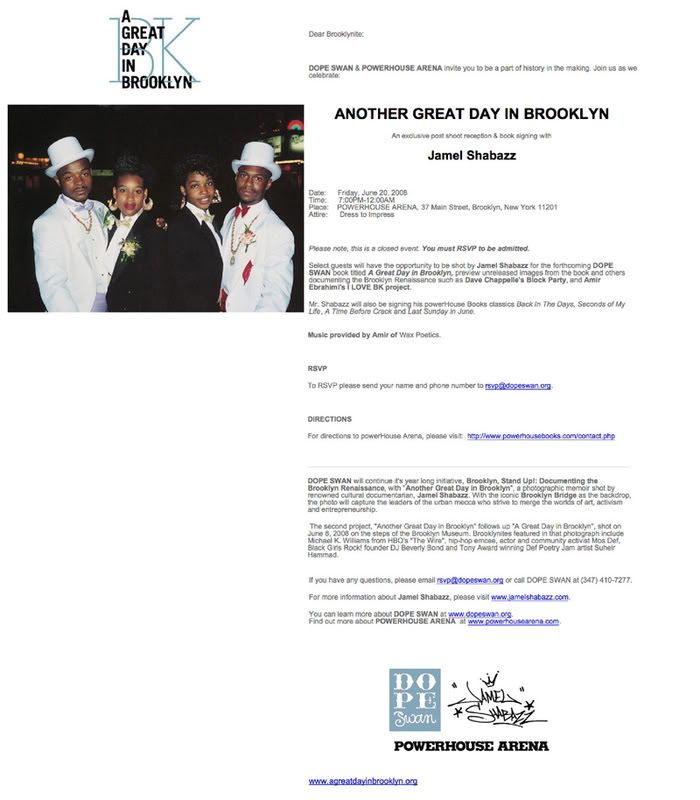 With Devin aka PAN, our pen pal from TRACE at Powerhouse at the follow-up shoot of
A GREAT DAY IN BROOKLYN
, a project I worked on with BK's all-female run community arts organization,
DOPE SWAN.
We were blessed to have a chance to work with one of the most extraordinary Brooklyn photographers,
Jamel Shabazz
, ---a true community activist and youth mentor and the perfect match to document the creative renaissance that is happening in Brooklyn these days.
"A Great Day In Brooklyn" follows the footsteps of Art Kane's iconic image of jazz aficionados, "A Great Day in Harlem," and will be the cornerstone of Brooklyn, Stand Up!, a year-long study into what has been called the Brooklyn Renaissance."
JUNE 21: International Day of Music /// Summer Solstice //// BK on fire!
Sarah and Rico aka DJ Don Cuco were killing it at Harriet's!
Harriet's Alter Ego
's lovely collection of art and fashion...they'll put the color back into your life!

JUNE 21: AVANT YARD @ MOCADA
The Museum of Contemporary African Diasporan Arts (MoCADA)
is proud to present Ancient Futures: The DNA of Cultures and Civilizations. A revival of the critically acclaimed 1990s Avant Yard underground art movement in Tribeca, that took the New York art world by storm, the exhibition Ancient Futures will feature work from several of the previously exhibited artists that started the revolution, as well as newer, emerging artists that are continuing the tradition of pushing the envelope.
Featured Artists:
Terry Boddie, Fikisha C, Jennifer Crute, Francks Deceus, Joshua Humphries, Dirk Joseph, Laura James, Kip Omolade, William Rhodes, Danny Simmons, Jamel Shabazz & Malik Yusef Cumbo
Musical Performances:
The Essential M.C., Game Rebellion, the Welfare Poets, Yolanda Zama, Nucomme, Survival Soundz featuring Carla Csharp Gomez, Lovespace Music, Defrei of Ahficianados, the Majestic Twinsound and Ahficial Music.
Here is an excerpt from the show's mission statement:
"By highlighting the role of the artist as it relates to social activism, Ancient Futures attempts to create a dialogue by utilizing art and music as a platform, while embracing the idea that individual artistic expression is necessary. Ancient Futures is an exploration into the mental make-up of the U.S. social system: the beauty, ugliness, abstraction, music, and color. It is a celebration of who individuals are in the present in relation to their past, and how they now forge their new futures. After all, the present is nothing more than pre-sent moments." This show was the second art event, featuring Jamel Shabazz.
Three pieces from amazing photographer & curator or the exhibit, Malik Yusef Cumbo (upper left and below). Check more of his werkz
here
JUNE 22
: Sunday @ Danny Simmons' Corridor Gallery: Artist Reception & Opening for POSITIVITY, Curated by Jamel Shabazz
Then, to finish off the week, I got a chance to express my admiration to Jamel Shabazz the third time for his relentless work in supporting community empowerment and artistic growth as a mentor, inspiration and photographer extraordinaire.
POSITIVITY: A collective photography exhibition curated by Jamel Shabazz that explores photography beyond its subject matter highlighting the POSITIVITY represented in the definite moment when the lens captures and shines on an individual or object.
On View: June 22 July 26, 2008. Artist Panel Discussion: Saturday, June 28 4-5pm. Moderated by Danny Simmons & Talib Kweli Danny Simmons Corridor Gallery, 334 Grand Avenue, Brooklyn, NY 11238
Check the flix from the reception of one of the talented photographers, Laylah Amatullah Barrayn
here
. Stay tuned for her show at MOCADA opening on August 3, 2008, entitled KINDRED COOL that captures some intimate moments from the life of contemporary jazz musicians.