Gabriella Davi-Khorasanee//Founder of Mama Clothing
I have been following and rockin' Mama
Clothing since 2004, when Gabriella sent out some
of her line to support the B-Girl Be festival in
Minneapolis. You can always check out Mama to find out what new in street wear for ladies, from shoes to bling. This
woman has been making moves and opening doors along with her tightly knit crew, reppin' the
west coast. Ladies, be sure to check out the blog and link with
the M.I.S.S. CREW. Here's a little bit from Gabriela herself:

WHAT DO YOU DO?
I am founder and creative director/designer of Mama, a ladies' contemporary
streetwear clothing line. I am also co-founder and Executive Editor of Mama's International Secret Society (M.I.S.S. Crew), a ladies' online lifestyle magazine that covers fashion, beauty, art, music, design, travel, cuisine and the things we love!
TRUE BEAUTY IS… kindness.
BEATS ARE
… always necessary.

TRUE SEXY IS... leaving something to the imagination.
MUSIC IS… my therapy and inspiration.
ART DOES NOT… have any limits.

MY NIGHTS ARE… time for me to
recharge my battery.
THESE 3 TURN ME ON: Ali (my husband), chocolate and humor.
SELF-KNOWLEDGE… comes with
experience.
ENOUGH OF… the Uggs!

MY CREATIVITY IS… my strength.

TRUE POWER IS... independence.
LIFE CAN BE...the trickiest riddle of
them all.
TO LOVE IS TO... have found the meaning of life.

I'VE GOT FLOW BECAUSE… I help the ladies' look fly.
IN 2009, I'll BE… killin' it. . . still.


Summer Collection – Mama's Joint
For the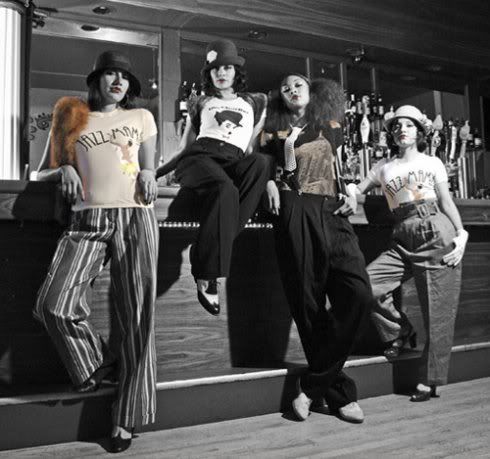 summer 2008 collection!
Mama takes you back to the Roaring 20's when smoke filled speakeasys and jazz clubs were the place to get a cocktail during Prohibition. A time when flappers were chopping their hair into bobs and hiking their skirts up and showing their ankles – so scandalous! Mama celebrates this exciting period and gives it a contemporary twist. The Mama's Joint Look Book is laid out like a silent film and was shot at Milk Bar in San
Francisco to give it that "secret spot" feel. You can view the lookbook here!


Sit back, relax and turn the listen to all that jazz.





Check the technique: