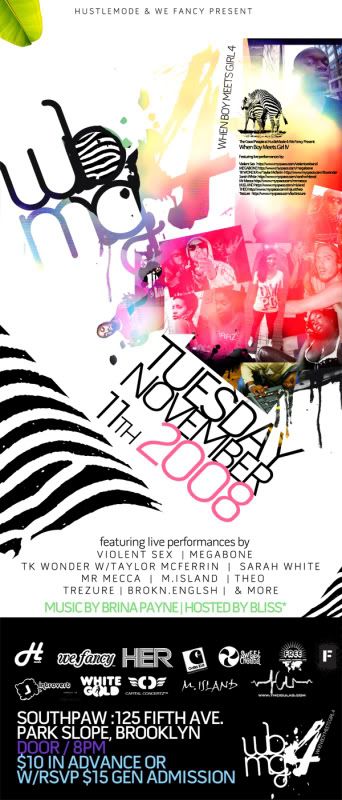 Life has been so busy that we somehow all disappeared in our work and reduced our time out so to speak. So I can't wait to see
Sarah White
, yes my blog parner and one of the hottest new singers around, perform live tomorrow at Soutpaw. To add to the excitement, she and her partner-in-crime,
Don Cuco
will rock the stage with some serious heavy-hitters, our good friends
DARU
(ex-Slum Village) &
KIVA.
. If you read the blog, you probably heard that Sarah has a fantastic record out called HIDING BLIND (link on the right side), and she's been getting stellar reviews and lots of love from around the globe. If you haven't heard it yet, now is the time to fall in love with it.
Also performing some talented peeps I know,
Violent Sex,
MEGABONE
,
, TK WONDER
w/Taylor Mcferrin
and some that I don't, Mr Mecca, M.ISLAND, THEO, Trezure , Brokn.Englsh....so I am also interested in learning about some of these new acts.
Tuesday, November 11th 2008 @ 8pm
SOUTHPAW, 125 5th ave Park Slope BROOKLYN NYC
$10 in advance or on the guestlist $15 general admission
The Good People at HustleMode & We Fancy Present:
When Boy Meets Girl IV
Not to be missed, people!