Im playing with a live band this FRIDAY so come thru!!! DARU on DRUMS, KIVA on KEYS, DON CUCO on GUITAR! The live sets are on the earlier side, so do miss us. Be there by 10pm. xoxo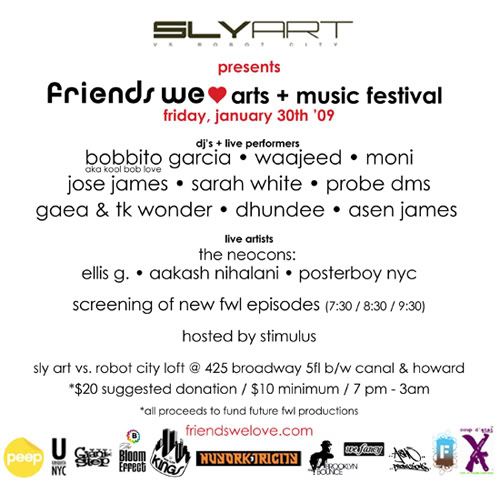 This Friday is the first FRIENDS WE LOVE ARTS & MUSIC FESTIVAL FUNDRAISER! We need your support, so please come through and bring a friend or ten! We've got Bobbito Garcia, Waajeed and Moni DJing, Stimulus hosting & six great live performances. New live music by Jose James (#21/50 best jazz artists of 2008), Sarah White, Probe dms, GAEA, Asen James and Dhundee. Art installations and overall goodness for a good cause!
Thanks in advance for your support =)
FRIDAY, JAN 30
Sly Art vs Robot City Presents
The Friends We Love Festival Fundraiser
434 Broadway 5th floor, NY NY 10013
between Grand + Howard
*Enter at 38 Howard around corner*
Trains - NR6QJMZ19 to Canal
7pm - 3am
18 to enter / 21 to drink
Suggested donation: $20 / $10 minimum
DJs & Live Performances by:
Bobbito Garcia aka Kool Bob Love
Waajeed
Moni
Dhundee
Jose James
GAEA ft TK Wonder
Sarah White / Daru Jones / DJ Kiva / Don Cuco
Probe dms
Asen James
Live Art by The Neocons:
Ellis G
Poster Boy NYC
Aakash Nihalani
Screenings of Friends We Love Video series at 7:30 / 8:30 / 9:30
Hosted by: Stimulus
Friends We Love has been a self-funded short documentary series since inception and as many of you know, producing content of this caliber is costly and time consuming. Fortunately our passion and belief in the series has fueled our enthusiasm and endless work days, but in order to create a sustainable production, we need to raise some funds. We have therefore organized the FWL Festival. The first Friends We Love Festival series will converge the worlds of music, film and visual art presented by the Sly Art vs Robot City Soho loft space on January 30th. It will serve as a launch party for the Friends We Love Mixed CD, which was recently released by the Japanese label Toy's Factory. We have six confirmed live performances and some of New York's most sought after DJs. The Soho loft walls will exhibit artwork by The Neocons - a never-before-seen collaboration of three of the City's best-known street artists who will also be creating live pieces throughout the night. All proceeds from the festival will be used for future Friends We Love video productions.
Thanks for reading & see you on Friday!