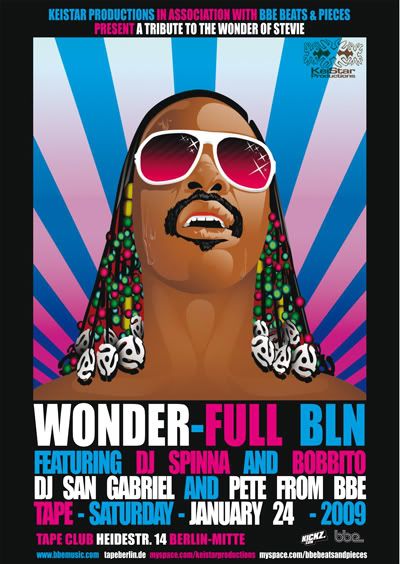 By now, it seems the word has spread from coast to coast, and beyond, about the ever growing Wonder-Full party. Brought to us by
Keistar
, Dj
Spinna
and
Bobbito
have brought joy to so may of us. This week, they head to Europe to share the love!
From
Keistar:
"WONDER-Full™ - Tribute To The Wonder Of Stevie" a concept created by KeiStar Productions honoring the legendary genius Stevie Wonder...features DJs
Spinna
&
Bobbito
, who back in 1999, were asked to spin at a party which paid tribute to Stevie Wonder's "Songs In The Key Of Life" album. There, the duo and KeiStar quickly realized they all had a mutual love for 'Little Stevie's' music and judging from the atmosphere on the dance floor that night, we knew we had a good thing going.
DJ Spinna and Bobbito have collaborated and compiled tribute CDs of Stevie Wonder's music titled…'The Wonder Of Stevie', 'Wonder Wrote It'. DJ Spinna has remixed the song "My Love Is On Fire" from Stevie's recent album "A Time To Love". Take a listen online...
KeiStar Productions has successfully produced this event since 1999 starting in its hometown of New York City. From then on KeiStar Productions has traveled nationally and internationally with WONDER-Full™ to Los Angeles, San Francisco, Philadelphia, London, Japan, and Amsterdam.
Stevie Wonder has expressed his gratitude by calling into the party in 2003 and 2004, addressing the crowd and has made a special appearance at KeiStar Production's recent WONDER-Full™ tribute/concert after party last year (November 2007) where he delivered a heart felt speech to the audience. On June 14th of this year Stevie Wonder treated KeiStar's WONDER-Full™ audience to a 'mini' live concert! See clip below!
(I posted this video last summer, but her it is again for the new Wronglips readers)