I first met
Nikki Ntu
back in October when Mega of Audio Aesthetics invited me to her and the album's producer
Melo-X
's exclusive listening party for Nikki's debut album
The History of Dreams
(check my post on it
here
). My first impression of the album then "
beautifully soothing and gently stimulating with the truth" couldn't be more fitting now that I had a chance to get more familiar with it.
..it is an amazing piece of music and Nikki, who was mentored by hip-hop ambassador Tony Blackman rides through Melo's beats with a flow at times gentle at times hard but always on point. I usually write these intros myself but her artist statement is so dope that I decided to not even try to do something better."As the debut artist from Melo-X's imprint Galax; we are proud to present Nikki Ntu. Her undeniable Hip-Hop style is infused with political fervor and a spiritual self -expression heard from very few artists today. Nikki's music is the reflection of a creative and ambitious generation of artists coming out of the Brooklyn renaissance. Working with longtime friend and fellow Brooklyn native Melo-X as her producer, Nikki hopes to deliver a new sound imbued with a new feeling to the people. With strong themes of healing, revolution and love, Nikki is birthing new concepts of female empowerment but moreover people empowerment. "My music breaks down a lot of barriers in people. The rhythms bring out emotion and the lyrics stimulate the mind as well as the heart. Those simple things have a great impact on inspiring and informing folks. And when you have a safe space to put everything on the table, healing is the only outcome." Her debut EP "A History of Dreams" will drop in the spring of this year. A conceptual project entirely produced by Melo-X, it features 7 cinematic tracks of futuristic, yet nostalgic, rhythm and lyricism coupled in powerful emotions. Her songs take listeners on a voyage into the soul of Nikki Ntu."
WHAT DO YOU DO? Unveil the unknown.
WHERE DO YOU CALL IT HOME? Buck Town baby!
TRUE BEAUTY IS… balance and bliss.
BEATS…tell me what to do.
TRUE SEXY IS… a sense of humor and the ability to laugh.
MUSIC IS MY…craft, my freedom, my strength, my weakness.
ART DOES NOT…lie.
MY NIGHTS ARE…eye-openers.
THESE 3 TURN ME ON…good conversation, atmosphere, and chocolate!
SELF-KNOWLEDGE …will free us all.
ENOUGH OF…living in the past and running away from the present.
MY CREATIVITY IS…so weird I don't even understand it yet. It's 2 parts pressure, 3 parts fun, and a splash of inspiration.
TRUE POWER IS…the power to master one's self.
LIFE CAN BE THE... best reality.
I DREAM OF… a) Signs and symbols. Subconscious secrets played out through cryptic scenarios. b) Messages coming from who knows where. Sometimes voices sometimes visions. Angels so vivid I could see the cracks and creases in their dark skin. c) Strong feelings that last far beyond the night.
TO LOVE IS TO… let go.
I'VE GOT FLOW BECAUSE….I ride the beat like a pony.
THE WOMAN OF THE FUTURE… is made with old molds.
WHERE CAN WE REACH YOU?
Nikkintu.blogspot.com
/
myspace.com/nikkintu
/
twitter.com/nikkintu
, shout me a holla!
LATEST PROJECT...A History of Dreams- both literally and figuratively. It's a magical piece of work.
WHAT'S NEW FOR 2009? The music, the shows, the ideas, the process.
SHOUTOUTS? To my nomads, artists, creators, conscious cats, and everyday conquerors. Big ups to Brooklyn!
DOWNLOAD HER EP "BIRTH OF VENUS"

FREE

.
Title:

Birth of Venus

Album: A History of Dreams Featuring: Nikki NTU. Produced by MeLo-X http://www.myspace.com/nikkintu http://nikkintu.blogspot.com/
I am very exited to work as the art director for debut full-length album. Stay tuned, it's dropping soon!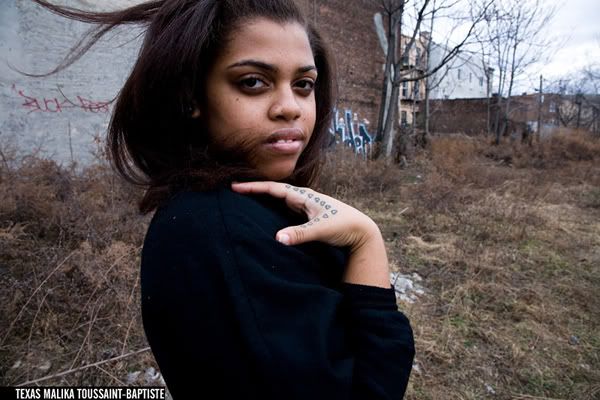 From her untitled novel… She was somewhere between sand and dirt, grass and cold concrete. As she stooped down to the ground grabbing the earth, panting, like a panther prepared to pounce; her belly bulged. She was pregnant with Time, both past and future. She was the millisecond.Eyes smoldering, her lips parted to let the heat in her chest cool off. But it only cooled for so long. She looked out at times to come and the heat grew so hot it wrapped around the molars in her mouth, attached to her tongue, and sparked her taste buds to call forth saliva. But the burning didn't stop. Fire huffed out of her nose and she became inflamed. Her purpose was realized, her butterflies flew free, and her fears became God in practice.